Board will front Government austerity damage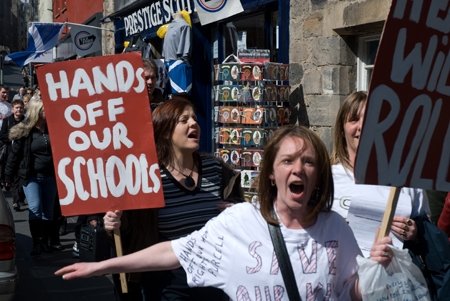 TDSB announcing that it will begin Consulting Community on 2012/2013 Budget
-Trustees will be holding ward forums on the 2012/2013 budget in the coming weeks.
In order for the Board to comply with Ontario's Education Act school trustees, states a Monday release from the TDSB, "must hold ward forums to hear from their communities about the recommendations that are being considered to pass a balanced budget".
This year, recommendations severe cuts to programs and services required to give students and adult learners what they need to succeed (termed "efficiencies") will transform education delivery in this city.
In an attempt to comply with Ontario's severely inadequate Ministry of Education funding levels, and rather than stand up to the provincial government, senior staff have cut several hundred essential front line staff and now propose a massive selloff of school properties.
For TDSB information on the 2012/2013 budget, and details on the ward forum presentation, check out: tdsb.on.ca/budget/
Quotes
"We've been working with our Provincial and Municipal counterparts to ensure there is as little impact as possible on our students. We'll continue working with our partners to find creative solutions that put our students and schools first."
– Chris Bolton, Chair of the TDSB
"I strongly encourage parents, students, and community members to attend their local ward forums to let us know about their concerns and provide their thoughts on the Board's budget."
– Jerry Chadwick, Chair of the TDSB Budget Committee
TDSB senior staffers' statement of "facts"
"In March, the Board approved $50.6 million in reductions, however a further $58.2 million must be found to balance the 2012/2013 budget.
"The Board is scheduled to approve its 2012/2013 budget at a special Board meeting on June 13, 2012.
"Every $1 of the deficit not found this year means the TDSB has to find $2 of savings next year. That means a $110 million deficit would become $220 million next year."
www.tdsb.on.ca/budget/       Monday , May 14, 2012