students strike for public funding
.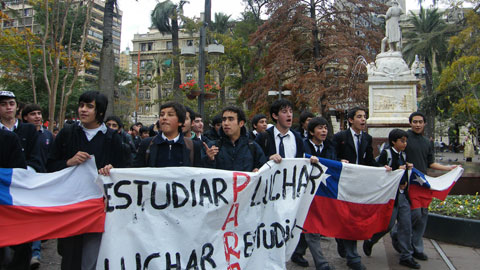 Chile's student demonstrations    Photo: Nomasnancis on Flic
Chile's school students joined a two day national strike today after three months of demonstrations and sit-ins all over the country during which teenagers challenged long-held views and managed to change laws regulating their country's education. 40 secondary schools across the country, began the protest, with students using chairs and desks to blockade the perimeters.
The  three-month national strike of secondary school students has called for: year-round free access to public transport for secondary students, improvements to technical and vocational schools, repairs to the infrastructure of schools damaged in last year's earthquake and the nationalisation of education. 
Chile Faces Shutdown
By AP / FEDERICO QUILODRAN , Aug. 26, 2011
SANTIAGO, CHILE —After three months of mass protests that provoked a sharp drop in his popularity, Chilean President Sebastian Pinera agreed Friday to negotiate with students and teachers demanding more state funding for education and profound changes in government.
Pinera, who leads Chile's centre-right political coalition, made the call for dialogue as people recovered from a two-day nationwide strike called by the country's largest union organization. As students, teachers and pot-banging families around the country joined in, the strike turned into a huge protest against his 18-month old government.
Most marchers were peaceful but scattered violence marred the protests, and a 16-year-old boy was shot to death early Friday, allegedly by a police bullet, as officers responded to looting and riots. Nearly 1,400 people were arrested nationwide, and more than 200 police and civilians were injured.
"After more than three months in which we've seen violence and conflict flourish, now is the time for peace, the time for unity, the time for dialogue, the time for agreements," Pinera said.
He took care to invite representatives of all the sectors involved — students, teachers, parents, professors and those who run the nation's schools and universities — and say that education reform talks should take place in the presidential palace as well as Congress.
That represents an about-face for Pinera, who had avoided talking directly with protesting students or openly considering their demands before sending his 21-point package of education proposals to Congress.
The students had their own list when they began taking over high schools and universities three months ago, from more state funding to better teacher training, and a guarantee of free quality education to all Chileans. But their demands grew to include a new constitution to replace the top-down political system dictated by Gen. Augusto Pinochet's regime, and popular referendums to give Chileans a direct voice in their democracy.
Union organizers of the nationwide strike added their own list, including major changes to pensions, health care and the labour code….
Ed note:  Chile's largest union coalition called the strike for Wednesday and Thursday to join forces with the high school and university students boycotting classes for three months now.
What can we learn from Chile's student demonstrations    
Written by Catalina May, eastlondonlines.co.uk
They called it the "penguins' revolution" because of the similarity between the navy and white Chilean school uniform and the birds. It was the biggest social movement since Chile returned to democratic control in 1989 and was led by hundreds of thousands of teenagers who didn't have the right to vote, but were determined to make a huge change in education.
Through two months of demonstrations and sit-ins all over the country teenagers challenged long-held views and managed to change laws regulating their country's education.
As schoolchildren as young as 12 take to the streets to add their voices to the protest, what lessons in student revolt can be learned from the Chilean experience.
The Chilean movement began in April 2006 when school students protested on the streets of Santiago, demanding transport discounts and free university selection tests. As the days went by, the demonstrations became more and more violent and on May 10 more than a thousand students were detained in cities all over the country.  After three weeks of demonstrations, students had accomplished nothing; the violence had tarnished their demands and the government was refusing to negotiate with them.
Karina Delfino, former spokeswoman for the students' movement, said: "Violence in demos kills social movements, but that's a risk you take when you organise a massive protest. And the press is always showing any disorder, regardless how small it is; that creates a negative image of your movement."
The turning point came when state schools – traditionally seen as only providing a poor quality of education – were peacefully occupied by students asking this time not only for economic improvements, but for profound changes that would improve the quality of the country's education.
In Chile, the education system reinforces social inequalities: good education in private schools for those who can afford it and bad education in free public schools. But until the penguins' revolution, nobody cared.
Chile Faces Shutdown over 'Utopian' Demands
By AP / FEDERICO QUILODRAN AND EVA VERGARA Wednesday, Aug. 24, 2011
(SANTIAGO, Chile) — Chile is bracing for a nationwide, two-day shutdown as unions, students and center-left political parties demand fundamental changes in society.
They want to replace Chile's dictatorship-era constitution, which concentrates vast power in the presidency, with a new charter enabling popular referendums and making free quality education a right for all citizens. They also want pension reforms, a new labor code and more health care spending.
Chile's largest union coalition called the strike for Wednesday and Thursday to join forces with the high school and university students boycotting classes for three months now. They have support from the center-left coalition that governed Chile for 20 years before President Sebastian Pinera brought the right wing back into the presidential palace last year.
Transportation workers and day-care providers also plan to strike, stranding millions of other Chileans.
"It's painful to see those working so hard to paralyze Chile," Pinera complained Tuesday. "We are perfectly conscious that our country has many unpaid debts, that there are many problems that remain unresolved, many of which were caused decades ago."
Chile's economy could lose $400 million — a disappointing setback, "especially now with huge storm clouds appearing in the global economy," Pinera said.
Chile's GDP is growing at a healthy 6 percent, and the government has $24 billion in foreign reserves in its rainy day fund, but Pinera has warned against "the temptations of populism and irresponsibility."
"Nothing is free in this life; somebody has to pay," Pinera said when he proposed a 21-point education reform package to Congress this month.
The package includes $4 billion in new education funding, more scholarships, more teacher training, help for students who can't pay their loans and a reduction from 5.6 percent to 2 percent in student loan interest rates. He also proposed a new government agency to take over and fund failing local schools, and an effort to make private universities comply with Chile's law requiring non-profits to reinvest their gains.
But Pinera has drawn the line at more fundamental changes and flatly rejected the idea of popular plebiscites. Providing free education for everyone would mean forcing the poorest to help subsidize the most fortunate, he argued.
Chile currently spends $2,000 annually per schoolchild, compared to $7,500 in the most-developed countries, according to the multinational Organization for Economic Cooperation and Development, which Chile joined as it tries to leave the third world behind.
Education in Chile also has relied more on private funding than in any other member country, according to a 2004 OECD study.
Chile's government spent just 0.4 percent of its GDP on education, while student family contributions and bank loans made up another 1.8 percent, for a total of 2.2 percent of GDP. By comparison, the U.S. government spent 1 percent of U.S. GDP on education, leaving private sources to make up another 1.8 percent.
In other words, Chile's government provided 18 percent of the money spent on education in the country, compared to 36 percent in the U.S. In most other developed countries, the government assumes much more of this burden, providing 71 percent of the total education spending on average, enabling families to spend and borrow much less to see their children get ahead.
Chile's 3.3 million schoolchildren include 54 percent who attend local schools, whose quality depends on municipal funding, and 31 percent who attend state-subsidized private schools, whose quality largely depends on parent income. A luckier 9 percent attend nonprofit schools, often subsidized by corporations, and 6 percent attend private schools.
Pinera's ministers have called protest leaders intransigent, but polls suggest most Chileans support their call for deeper reforms.
Government spokesman Andres Chadwick dismissed the demands as "more than utopian," and said the palace doors "have always been open" to labor leaders seeking dialogue. But such openness hasn't extended to the student movement.
Legislative leaders have proposed a negotiating process that includes students and teachers as well as the government, but Pinera refused to sit down with the protesters before submitting his proposed changes to lawmakers.
Students delivered a letter to the palace Tuesday asking for Pinera's direct intervention to resolve the conflict. University of Chile student leader Camila Vallejo described it as a plea for Pinera to clarify whether "he really has the willingness to see education as a universal social right, and not as a consumer good, as he has suggested."
Pinera's education minister rejected the students' overture hours later, saying that congress is the proper forum to resolve the conflict.
Also Tuesday, Chile's Supreme Court ordered police protection for Vallejo, 23, at the request of her parents, who said she had been getting death threats. One of the apparent threats was made on Twitter by a high-ranking Culture Ministry official, Tatiana Acuna, who invoked the infamous phrase Gen. Augusto Pinochet used while toppling socialist President Salvador Allende in 1973. Pinochet was recorded telling his troops: "If you kill the bitch, you do away with the litter."
Acuna told the court her message was misinterpreted, but she was removed anyway from her post as executive secretary of Chile's national fund to support books and lectures.