As teachers' strikes loom over Ontario, the fight isn't about salaries, though it is about the bottom line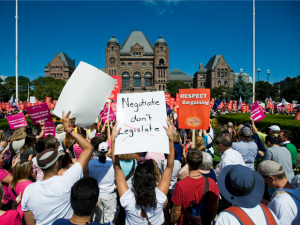 It's been over a week since public high school teachers in Durham went on strike, closing schools for 21,000 students, and no one seems to be able to explain why.
"Perhaps someone (either side) can actually tell us why talks are not being held? There is such a lack of concrete information," Trish Scovil Taylor, a parent, wrote on the Durham District School Board Facebook page. On that site and on Twitter, parents are pleading with the board for answers, questions it deflects to the teachers' union.
Even the education minister, Liz Sandals, has repeatedly told reporters she can't explain why the teachers have walked away from local negotiations and the classroom.
"It's up to the union local to explain clearly what is the local issue on which they decided to have a strike," she said, the same refrain she's echoed since teachers first walked out in Durham last Monday.
But for parents that's not a good enough explanation, especially as Sudbury joins Durham on the picket lines, shutting a total of 26,000 students out of class. And it's not just about missed days. One high school in Durham has cancelled a trip to New York City, while older teens are worried about proms and graduation and ensuring their final grades are ready for universities come fall.
What's even more concerning is there are concessions on the table about planning and prep time
The strife is poised to spread to other boards, with Peel high schools, which cover Mississauga and Brampton, set to close May 4, and teachers in Waterloo, Halton, Thunder Bay and Ottawa could walk later that week. Elementary teachers are ready to strike as early as May 10th, and Catholic teachers are taking steps towards a walkout.
So why are educators so riled?
It's not just about wages. Teachers say they're defending their professionalism and your child's learning experience. The government says it's trying to negotiate a "fair deal" for educators and taxpayers alike.
In the middle are the students, wedged between competing interests that both claim to have theirs at heart.
Jean Levac/Postmedia News/Files
Teachers rally outside the Ottawa Convention Centre in December 2012, where Premier Dalton McGuinty was attending an event. That anger is still real, and bleeding into this year's talks.
While the unions are taking different tracks — the Ontario Secondary Schools Teachers' Federation is focusing on local battles with school boards, while the Elementary Teachers' Federation of Ontario and the Ontario English Catholic Teachers' Association take a province-wide approach — they're all fighting the same fight. Teachers' wages were essentially frozen in the last round of negotiations, though movement is allowed up the salary grid, albeit every 18 months instead of the previous 12.
We have not talked about compensation. We haven't talked about any monetary issues,
"Obviously there are the compensation pieces… the 'net zeroes.' But beyond that what's even more concerning is there are concessions on the table about planning and prep time," OECTA President James Ryan said.
Cole Burston / The Canadian Press
Teachers of the Ottawa-Carleton District School Board carry picket signs outside Ontario Premier Dalton McGuinty's office to protest to Ontario's Bill 115 on Dec. 12, 2012.
There is also lingering anger among the teachers' grassroots from the last round of talks, sources say, which saw Premier Dalton McGuinty claw back banked sick days and impose contracts on some unions. That legal fight is still winding through the courts, despite the fact the controversial Bill 115 has since been repealed.
The anger and unrest continues, though Kathleen Wynne took over the Liberal Party on a pledge to calm relations with teachers. She even managed to, however briefly, re-negotiate deals with OSSTF and ETFO, who got an almost $500-million "catch-up" for wage increases after other unions got a better deal in earlier talks.
But there's no money to buy peace this time around: The province has a projected $8.5 billion deficit this fiscal year, and after March 31, 2016, it has frozen the education budget at $25.6 billion until the books are supposed to be balanced in 2018.
The unions understand that teachers aren't alone. Doctors, nurses and other public servants are also being asked to take "net zeroes." That's government speak for a wage freeze where any salary gains are offset by cuts to working conditions or benefits.
"We have not talked about compensation. We haven't talked about any monetary issues," said Sam Hammond, president of the Elementary Teachers Federation of Ontario (ETFO). "'Net zero' and increases were, a couple of months ago, at the forefront… I can honestly tell you that over the last month and a half we haven't even thought about salary or monetary issues because we have been working on non-monetary issues."
The Liberals spent the past decade in office crowing about their achievements in education, so why are they so willing to take on the very classroom caps they created?
Frank Gunn/The Canadian Press; Peter Redman/National Post
Kathleen Wynne and Mike Harris both occupied the political centre — could they share a legacy of teachers' strikes as well?
Because it's one area where the government can wring a bit more money out of the education system, a cut to allow for those "net zeroes" even if small wage increases are negotiated. Less allotted prep time means fewer teachers doing more, fewer salaries to pay, fewer pensions to match. It's the same for school mergers, a politically unpopular but a demographic and financial reality for many parts of Ontario.
The province announced eight new schools in its budget; it also has plans to close some, they just won't print the details so clearly in black and white.
What's certain is this: Ontario must balance its books by 2018 or face a costly credit downgrade that would further erode its ability to fund education.
Is it possible to both freeze education spending in the next two years and avoid a strike?
Gord Waldner/StarPhoenix
Are Ontario classrooms about to get more crowded?
"We'll see over the next couple days" as negotiations resume if this strike can be avoided, Hammond said Monday. He hopes the mediator at the central table can push things along so a walkout can be avoided, but if not, his members are ready to walk provincewide. The move would shutter all public elementary schools for the first time since the 1997 fight against Mike Harris's "Common Sense Revolution.
"In the event talks don't go well… the earliest strike position would be late June, more than likely it would be in the fall," said Ryan in an interview, adding teachers would rather stay in the classroom.
That means the dispute won't end just because the school year does, because that's when things could really start to heat up.
Ashley Cnasady  National Post 29.04.15