School funding: the solutions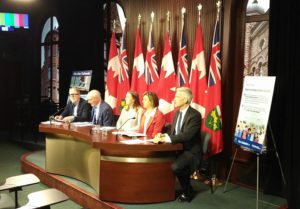 Economist Hugh Mackenzie insists in the latest issue of Our Schools/Our Selves that IT'S TIME FOR A NEW FUNDING FORMULA — ONE THAT PRESSES THE RESET BUTTON ON WHAT THE OBJECTIVES OF THE EDUCATION SYSTEM SHOULD BE.
IT'S TIME TO ARTICULATE A NEW SET OF GOALS FOR ELEMENTARY AND SECONDARY EDUCATION IN ONTARIO THAT LAYS OUT A UNIFYING VISION FOR PUBLIC SCHOOLS — ONE THAT STARTS BY ASKING: WHAT DOES A SCHOOL NEED IN ORDER TO FULFILL ITS FUNCTION?
NEW OBJECTIVES FOR FUNDING ONTARIO'S EDUCATION SYSTEM SHOULD INCLUDE MORE TRANSPARENT AND LOCAL DEMOCRACY; ACCESS TO HIGH QUALITY EDUCATION, NO MATTER
WHERE YOU LIVE; GREATER SUPPORT FOR DIVERSITY AND INCLUSIVENESS IN SCHOOLS; HEALTHY SCHOOLS THAT ARE THE CENTRE OF THE COMMUNITY; ELIMINATION OF THE SCHOOL MAINTENANCE DEFICITS; ADEQUATE FUNDING TO MEET THESE OBJECTIVES; AND EVIDENCE-BASED DECISION
MAKING — THAT IS, REGULAR REVIEWS TO ENSURE THE NEW FUNDING FORMULA IS WORKING TO MEET THESE OBJECTIVES.
As Mackenzie concludes, IT'S TIME FOR A COURSE CORRECTION.