Horwath's promise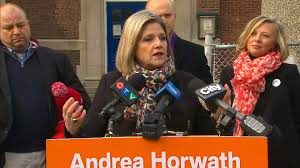 According to her official facebook page release Andrea Horwath stopped short of calling for a province-wide "standard of good repair" or the elimination of a $15.9 billion backlog in Ontario's school repairs.  The NDP leader's page reports that she committed to (the significantly less-ambitious promise) to make Education Development Charges available to Toronto's public school board.
Her 
facebook page 
reports:  "…she laid out her commitment for the Toronto and District School Board (TDSB) to be able to collect Education Development Charges (EDCs) to tackle the repair backlog in crumbling schools.
"Our children should have clean and safe classrooms, where they love to learn," said Horwath. "And families in every neighbourhood – from Parkdale to Davenport to Leslieville – should be able to count on having great local schools for their kids.
"But today, public schools in Toronto alone need $3.7 billion in repairs. We know what that means for our kids. There are classrooms that are so cold in the winter, kids are bundled up in winter coats, trying keep warm while they struggle to learn. Roofs are leaking. Washrooms aren't working. And there's lead in the water pipes at too many schools. It doesn't have to be this way."
"Under the current rules, EDCs can be used to build new schools, but they can't be used to fix the schools Toronto already has that are in desperate need of repairs. That means families moving into existing neighbourhoods are facing schools with big problems.
"Kathleen Wynne should listen to families, and fix the rules for EDCs so that they work for Toronto, for the TDSB and for Toronto's kids," said Horwath. "But if she continues to let us all down, and lets the school repair needs pile up, I want families to know exactly what I'd do after the election," said Horwath. "I will fix the rules for EDCs so that Toronto's schools can benefit from this city's growth, and our children have safe schools in good repair."
On Friday, Horwath joined TDSB Trustees Marit Stiles and Chris Glover; Toronto City Councilor Mike Layton; and Toronto parent Bill Mboutsiadis and his sons to confirm her commitment. The TDSB has been calling for the same change. Likewise, Layton has pushed a motion at Toronto City Council calling on the province to make the regulatory changes, which was passed unanimously by Toronto City Council.
"We support development," said Horwath. "And unlike the other parties, we support complete development, where families have the great schools that our children need. It's about standing up for our kids, standing up for our schools, and putting a plan in place that offers hope for a better school year for our kids."