behind closed doors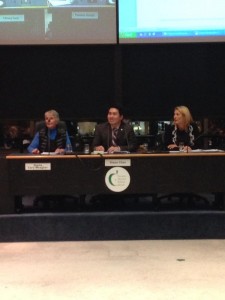 At it's Jan 19th meeting, the TDSB board set up dates to deal with the Minister's directives (a public consultation on Jan 26th, a board meeting on Feb 4th to consider plans to respond to the directives and finally on Wednesday Feb 10th a special board meeting to approve its plan to implement the Minister's directives.)
Trustees then decided to move behind closed doors to discuss the Ministry's 13 directives informally.  Subsequently the press and a couple of members of the public were allowed in.  One concerned constituent has written to her trustee about removing critically important discussion away from public scrutiny.
Dear Trustee:   Tonight I went to the special Board meeting to hear trustees discuss the questions they want to prepare in response to the new directives from the Ministry.  I was disappointed to see that once again the trustees resorted to retreating into a private session.   I came to witness a discussion that should have taken place in public.  There was no need for secrecy.  In the last five years the TDSB has resorted to convening the most important parts of Board meetings in private session.
Prior to this time, private sessions were rarely held.
I had hoped that the election of a new board was going to signal a return to more democratic practices.  Your sign was on my lawn this fall.  I note with approval that you advocated for the opportunity for the public to depute and have its say concerning the Ministry directives.  However, we, the public, being excluded from our chance to hear trustees and staff inform one another of the TDSB's situation in the light of these new Ministry demands, can only rely on the Wilson report, the three pages of Minister's Directives and whatever the media wants to say in order to know what's happening.  I understand the need for private sessions from time to time when, for example, discussing personnel issues concerning specific people.  However, keeping debate behind closed doors as a regular practice is not acceptable.
Please do what you can to ensure that Board meetings return to the practice of conducting  meetings in public.
Sincerely,
Your Constituent