Unprecedented attack on constitutional rights & freedoms of school board employees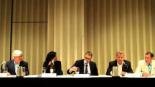 The Canadian Civil Liberties Association joined Ontario's teachers [and other education workers] in opposing proposed legislation that would force new contracts on teachers and school [board] workers, saying it's fundamentally undemocractic and that collective bargaining is a constitutional right. [watch it here!]
"Budget concerns are no justification to undercut the democratic process," CCLA director Sukanya Pillay said at a Toronto news conference on Thursday.
The controversial Putting Students First Act, or Bill 115, was introduced by the minority Liberal government on Monday. It would impose a wage freeze on teachers [and other education workers] and also gives the government the power to ban lockouts and strikes for at least two years.
"You don't have to be a constitutional lawyer to conclude that the proposed legislation is an unprecedented attack on the civil liberties and constitutional rights and freedoms of school board employees," constitutional lawyer Steven Barrett of Sack Goldblatt Mitchell LLP said at the conference.
Pillay said Bill 115 is a "pre-emptive" bill, which removes the right to strike before it is even suggested.
That "seriously impairs fundamental rights in a manner that cannot be justified in a free and democratic society," she said.
The CCLA also said the bill eliminates meaningful negotiation and sets a bad precedent for future debates.
[Education] unions are considering all their legal options in the wake of the legislation. Meanwhile, some teachers in the province are considering withdrawing from after-school activities and other programs run on a volunteer basis.
The bill will likely become law, as the Progressive Conservatives have agreed to help pass the legislation. The NDP have said they will vote against the bill.
Three unions representing about 45,000 workers, including English Catholic and francophone teachers, have signed on to an agreement that includes three unpaid days off and ends the practice of banking sick days that can be cashed out at retirement.
But three other unions representing 191,000 workers oppose the deal.
Citynews 30 August 2012
Present at the press conference were Sukanya Pillay, a CCLA director,  legal expert Stephen Barrett from Sack Goldblatt Mitchell, Canadian Union of Public Employees (CUPE) Ontario President Fred Hahn, Elementary Teachers' Federation of Ontario (ETFO) President Sam Hammond and Ontario Secondary School Teachers' Federation (OSSTF) President Ken Coran.