closing schools based on skewed utilization numbers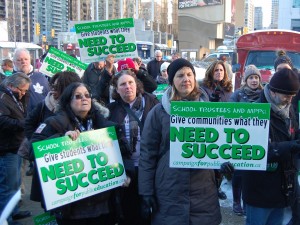 An internal Liberal government document obtained by the NDP shows the Kathleen Wynne government knows it's closing schools based on skewed utilization numbers, party leader Andrea Horwath says.
The concern is revealed in a ministerial briefing note the NDP obtained through access to information laws. In part, it reads:
"Utilization does not typically recognize all programs/pupils currently using school space, such as: Adult day school, fee-paying pupils, classroom space used for supplementary programs like ESL, alternative and continuing education programs, and programs offered through community partnerships (e.g. child-care programs). Buildings used for these programs/pupils appear as underutilized/empty in current utilization calculations even if they are all full capacity. If these buildings are closed/sold, there may not be accessible space available to support those programs."
Horwath says "Wynne is choosing to ignore things like child-care centres and ESL programs when it comes to making decisions about schools on the chopping block.
"She has closed 227 schools just since 2011 at a time when communities all over the province are fighting to keep their schools open. The government is ignoring the valuable programs and classes being delivered to communities."
The briefing note also points out that this Wynne government policy is at odds with the community hubs initiative – a program meant to use schools for precisely those things Wynne is ignoring, the NDP says.
"She's saying one thing, and doing another," said Horwath. "She talks the talk when it comes to using schools to offer so much more to communities – from English classes to adult education and child care – but, in reality, her policy is to completely dismiss those very important things."
The Near North District School Board reports that it will be losing about $1.7 million annually in top-up funding starting in September as a result of a new ministry funding model.
The board has struck an accommodation review committee (ARC) to review its proposed capital plan which would close Chippewa, Widdifield and West Ferris secondary schools and build a single school for more than 2,200 students.
The board also is considering closing E.W. Norman, W.J. Fricker and E.T Carmichael. A new junior kindergarten-to-Grade 6 school would be built at the Fricker site.
The board, which says the changes are needed to reduce unfunded excess space resulting from declining enrolment, has 5,908 surplus spaces.
One public meeting has been held with a second to be held May 8 at 6:30 p.m. at Chippewa Secondary School. A decision is expected June 27.
The NDP and Progressive Conservatives have been calling for an immediate end to all school closures.
North Bay nugget.ca