Corporations still won't pay their share.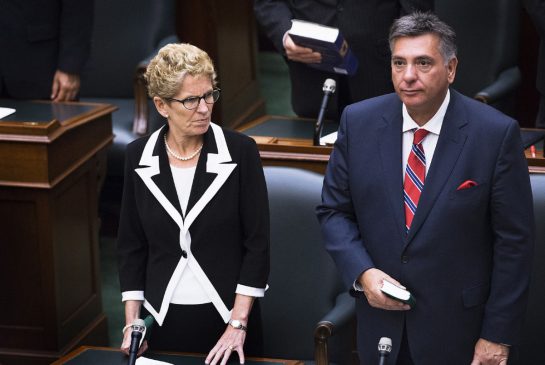 On Monday July 14th, Ontario Finance Minister Charles Sousatabled an identical … $130.4 billion fiscal blueprint to the one he introduced May 1, which sparked last month's election.
"It's a little bit of déjà vu, but a lot has changed," the treasurer told reporters, referring to the fact Premier Kathleen Wynne's Liberals were re-elected June 12 with a majority government and no longer need opposition support to pass the budget. The finance minister did, however, rule out raising Ontario's 11.5 per cent corporate tax rate despite each percentage point increase adding $650 million to provincial coffers.
"Seventy-four days ago, we tabled a plan in the legislature for the people of this province for a brighter, stronger future," the treasurer said.
"Since I last tabled this budget, we took that plan to the people from Sault Ste. Marie to Scarborough, Windsor to Walkerton, Kingston to Kitchener; from Barrie to Burlington and they entrusted us and our plan."
Despite a $12.5 billion deficit for this fiscal year, Sousa's only significant tax hike was to slap 220,000 Ontarians making between $150,000 and $514,090 with a new levy that will bring in a total of $635 million annually.
With credit-rating agencies breathing down his neck, the treasurer emphasized nine times in his 11-page speech to the legislature that Ontario will stop bleeding red ink within three years.
"We acknowledge there are skeptics, but let me be clear, we will balance the budget by 2017-18. We will limit growth in expenses, we will eliminate the deficit, we will continue to cut where we can, but we will continue to cut where we must," he said.
Sousa pointedly ducked media questions on whether public-service jobs could be cut — even though the Liberals won the election by campaigning against former Progressive Conservative leader Tim Hudak's controversial plan to cut 100,000 positions over four years.
Interim Conservative Leader Jim Wilson said the Liberals are kidding themselves if they believe Ontarians actually endorsed their plan in the campaign.
"I don't think the people of Ontario voted for this budget as the government says. They voted against us because of the mistakes we made. It was that clear," said Wilson, adding it's "dishonest and disingenuous" for the Grits to claim all public servants' position can be protected even he has indicated the foolishness of Tories' 100,000-job cut promise.
NDP Leader Andrea Horwath, who didn't even show up for the May 1 budget lock-up for the media, said her party also continues to oppose the fiscal plan.
Horwath dubbed it "a Trojan Horse budget" because it will lead to "a fire sale of public assets," such as Ontario Power Generation, Hydro One, and the Liquor Control Board of Ontario as the Liberals scramble to pay down the deficit.
"A lot has happened since May and that's important to acknowledge, but unfortunately a lot of things have stayed the same," she said.
Still, Horwath grudgingly praised the new Ontario Retirement Pension Plan, which echoes past NDP policy.
It is designed to complement the Canada Pension Plan, which Prime Minister Stephen Harper has refused to bolster even though benefits max out at $12,500 a year.
The mandatory ORPP, which takes effect in 2017, will force Ontarians who do not have an employers' pension plan, to set aside 1.9 per cent of their pay.
That will mean an additional $788 deduction for someone making $45,000 a year. It will eventually pay out up to $25,000 a year to future retirees.
Because contributions would be matched by employers, some have warned it could cost jobs.
http://www.thestar.com/news/queenspark/2014/07/14/ontario_liberal_government_tables_dj_vu_budget.html
By: Robert Benzie Queen's Park Bureau Chief, Richard J. Brennan Provincial Politics, Rob Ferguson Queen's Park Bureau, Published on Mon Jul 14 2014