Public board chair takes leave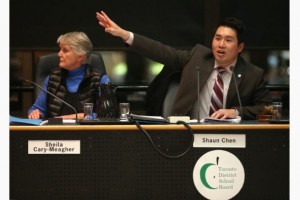 The chair of Canada's largest school board has resigned and also taken a leave of absence as trustee as he focuses on his run for MP in the fall federal election.
Shaun Chen is running for the Liberals in the new riding of Scarborough North.
It's expected the board will call a meeting this week to vote on a replacement for Chen, who has been a trustee for nine years and chair for one.
Fellow trustees knew about Chen's federal run when they elected him to be chair.
In a letter addressed to the board and Director of Education Donna Quan, Chen said he while he is stepping down as chair, he is taking a leave as trustee for Ward 21 (Scarborough-Rouge River) and will "not accept any salary from the TDSB during this time."
"This has been a time of transformation at the board," Chen said of his time at the helm, in the letter, sent out midday Tuesday.
"By working together, we have made changes to set the system on a positive path forward," Chen said in his letter.
"We approved a new whistleblower policy, reduced trustee discretionary expenses by over 55 per cent and became the first Ontario school board to establish an integrity commissioner."
http://www.thestar.com/yourtoronto/education/2015/08/04/toronto-school-board-chair-resigns-to-run-in-federal-election.html