Staff moves expeditiously: TDSB This Week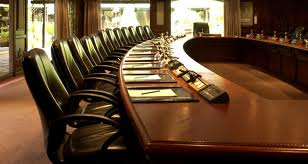 In less than 48 hours after a volatile  April 13th board of trustee's meeting, Toronto District School Board staff had positioned a committee of the board to expedite the Director's much-debated "Schools of Choice" agenda.
In this exclusive commentary to CPE one longtime delegate to our monthly CPE assembly of organizations, Katie McGovern, reports:
My TDSB package arrived late Friday.
Clearly, staff are moving quickly after Wednesday's board meeting debacle. The package contained recommendations and a sheaf of materials on "Programs of Choice" for next Wednesday's Planning + Priorities Committee meeting.
Under the title 'Moving Forward – Elementary Alternative Learning Options',  these recommendations
1. Reaffirm 26 April 2010 decision approving in principle Programs of Choice;
2. Program Review Teams (PARTs) for Alternative Learning Options (ie "Theme Schools"/ "Programs of Choice") for implementation in Sept. 2011 or 2012 at

Carlton Village Jr / Sr
James S Bell Jr/Middle School
Shoreham PS
Rene Gordon Elem +Donview Middle (a Sports + Wellness Academy)
Heather Heights Jr +Ryerson Community (a Vocal Music Academy)
Calico PS +The Elms Jr Middle (a Boys Leadership Academy)
Highland Heights Jr (a Girls Leadership Academy)
3. Alternate Learning Options [ALOs] critical path chart  (in appendix A)
4. Working table for Sept 2011 to discuss ALOs within TDSB including focus on honouring the value of local community schools.
-30-
CPE observers attending the April 13th board meeting reported on the Schools of Choice debate …blow by blow.  Full video procedings at www.tdsb.on.ca/boardroom
9:10pm
After 90 minutes of discussion a motion to do more study before approving the Director's proposed 'Programs of Choice" (doc: PSSC ecc of 30 March) was defeated by Trustees Bolton, Caro-Maegher, Ward, Tonks, Rodrigues, Payne, Gough, Smith, Chadwick, Chen, Wong, Hastings
During further discussion on the original approval motion, Trustees Dandy, Moyer, Glover, Kaplan, Goodman, Rutka, Gershen, all wanted more study  (note: motion for a feasibility study in tonight's board package)
10pm Goodman rises on a point of order and delivers a brilliant outburst alerting the meeting that "choice" in education essentially means the privatisation of our public school system.
M/S/Carried (Glover/Tonks) to amend the "Choices" motion to add the following:
(e) a committee be established to consider alternative wording to "programs of Choice" and that "Themed schools" be considered and
(f) the Vocal Music Academies be adopted under the boartd's neighbour schools program.
Motion M/S/Carried (Coteau/Chadwick)
that the staff recs on p18 be incorporated into the "themed programs " (formerly "choice") motion.
M/S/Carried (Gershon/Coteau) that the Director report back to board in Jan 2012 on the actual cost of the programs and the effect on student enrolment on the sending schools.
Point of order (Goodman):
This requires a number of PARCs (Pupil Accomodation Review Committee) be convened.
M/S/ (Tonks/Gough) to amend by adding "that the Director immediately convene a PART (Program Review Team) for each of the 10 proposed alternative programs set out in the staff recommendation on page 18 and report back to the board in the May 2011 cycle of meetings …"and that staffing implications be included".
Goodman on Point of Order
Our policy determines we are not allowed to pre-determine an PARC/PART but to approve a budget for these schools would do just that!!
M/S/C to delete staff rec (b) on page 18 and that "two students" be replaced with "that the specific and total cost of implementation."
Director:
Recommend to move program implementation to Sept 2012.
11:21pm Motion carried (Kaplin/Laskin) to defer any decisions on staffing until the PARTs are completed.
For referral 10 trustees (9 against)
It was then clarified by chair that no PARC will proceed for the 10 schools. There will be further discussion at next week's P&P committee meeting on Wednesday. Apr 20th
Notes:
1. The Chair, Trustee Bolton, noted that there likely would need to be 3 board meetings held in May.
2. The November 2010 board meeting motion stands:  "no further action on Programs of Choice until board approval".