The schools under review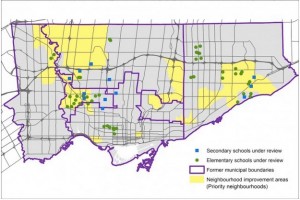 1) Conduct the following Pupil Accommodation Review Committees (ARCs) over the next three years.   Cluster reviews in 2014-15 involving:  Nelson Boylen CI, Downsview SS and Weston CI;
 Sir Robert Borden BTI, West Hill CI and Sir Wilfrid Laurier CI;
 Danforth Collegiate and Technical Institute, East York Alternative Secondary School, East York CI, Eastdale CI, Eastern Commerce CI, Greenwood Secondary School, Monarch Park CI, Riverdale CI, School of Life Experience, and Subway Academy 1.
Cluster reviews in 2015-16 involving;
 CH Best MS and Wilmington ES;
 Vaughan Road SS, York Memorial CI, Oakwood CI, John Polanyi CI, Forest Hill CI and George Harvey CI;
 John Buchan Sr. PS, Highland Heights Jr. PS, Tam O'Shanter Jr. PS, Inglewood Heights Jr. PS, Lynngate Jr. PS, Pauline Johnson Jr. PS and Timberbank Jr. PS;
 Kensington Jr. PS, Ryerson CS, King Edward Jr. & Sr. PS and Lord Lansdowne Jr. & Sr. PS.
Cluster reviews in 2016-17 involving:
 Gracefield PS and Amesbury MS;
 Galloway Road PS and St. Margaret's PS;
 Manhattan Park Jr. PS, Buchanan PS;
 Rockcliffe MS, Cordella Jr. PS, Harwood PS., George Syme CS, Roselands Jr. PS, Lambton Park CS, and Dennis Avenue CS.
It is anticipated that there will be recommendations to Board coming from these reviews that will see a number of school closings.
2) Pursue community consultations to address the 4 disposition of sites identified in the Board's approved three-year capital budget of June 2014. The sites are Bridgeport, Old Orchard, CB Parsons, and Whitfield.
3) Accelerate the community consultations of 7 sites in order to consider additional sites for disposition. The sites are Brookbanks, Burnett, Cartwright, Earlscourt, McCowan, McNichol, and Silver Creek.
4) Accelerate the review processes of 9 sites in order to consider additional sites for disposition. The sites Buttonwood Hill, Castlebar, Champlain, DB Hood, Glen Rush, Gooderham, Queen's Court, Sir Sandford Fleming, and Thistletown.
5) Transfer full responsibility for pursuing redevelopment projects and opportunities to create community hubs in operating schools to the TLC.
6) Continue the annual planning review process with each Trustee and amend the rolling 10 year plan Long-Term Program and Accommodation Strategy in spring of each year. The plan will also include a refreshed three-year capital budget to support the plan.
From: Summary of Plan to Address Capital for the Next Three Years      TDSB  source