This sad week at the School Board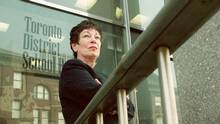 The shocking news about Trustee Atkinson reached CPE Saturday evening.  On Sunday the Globe and Mail reported that "Irene Atkinson, a blunt advocate for educational causes, was feted at a [Campaign for Public Education] party last December [11th]. It was the 40th anniversary of her first being elected as a Toronto District School Board trustee, a job she still holds today.
"But now, Ms. Atkinson's supporters are shocked and sombre, as she lies unconscious in an intensive-care unit. A fire inside her High Park Boulevard home this past weekend has left her in hospital, on life support and in an induced coma, as she is treated for smoke inhalation. Her condition remained unchanged Sunday evening."     COLIN FREEZE, Globe & Mail  Sunday 17.03.13   Photo credit:  Deborah Bais, Globe & Mail
Trustee Atkinson has since been reported as in "stable" condition.
Meetings:    Budget Committee Mon at 4:30, Cte Room A
One of the very few understandable report written: Q + As about Budget. very clear and even has a section about Con Ed (slight over run of 154,774…AND a listing of all funding sources. It shows Spec Ed as being $20 mil over funding, ECE higher salaries
Also dates and locations of community consultations (the first – Earl Haig – is Tues March 19 and the next being in May 21 through June 13
School Board Budget 2013-14 Tues March 19 Earl Haig  
  Community Consultation Meeting    details
Human Resources and Prof Learning is Wed Mar 20, 4:30, Cte Room A
A report Arising from Bill 115 (Lou lists 6 challenges in implementation but says they have implemented portions of the new sick leave plan. Salary grid delay from Sept 1/12 to Jan 31/13 and expect to have all outstanding issues in place for Sept 1/13.
The second report is update on Equity and hiring / promotion.
Appendix B is responses to self ID survey support and teaching.
Note from a total of 11,237 in 2006/07 for TEACHERS, this year (12/13) total is 370 – a uselessly low number.
Although numbers fluxuate, highest after the original 06/07 was only 605 (07/08) and lowest was 09/10 with only 119 responses.
Support staff started with 6,798 in 2006/07 and dropped to 228 the next year. The lowest was also in 09/10 with only 91 reporting. But the next year jumped to 191 and,  the year after (11/12) 307. This year (12/13) is 281.
However, in the break-out for support staff only (units A through E) the total is 258 for 12/13. Congrats unit B — 2 people only. Unit C – 215;  Unit D – 28; unit A (social wrk, psych, etc ) — 11; and unit E (skilled trades) 2.
221 of 258 are female (32 male, of which 20 were "D")
Aboriginal: 1 (Unit D)
Racial minority: 161 (143 in Unit C; 12 Unit D; 2 Unit B)
Disability: 7 (Unit C – 6; Unit D – 1)
LGBTI & Queer-identified: 4 (2 Unit C; 1 Unit D)
Interesting Note:   despite the discrepancies in numbers (06/07 and 12/13), the %ages are rather similar, especially in the %age of males vs female respondents. The others are not as similar but are surprisingly close.
tdsb.on.ca/boardroom/meetings/
With thanks for the compilation by Katie Mcgovern, Secretary, Toronto Education Workers