k-12 to a life of debt is craziness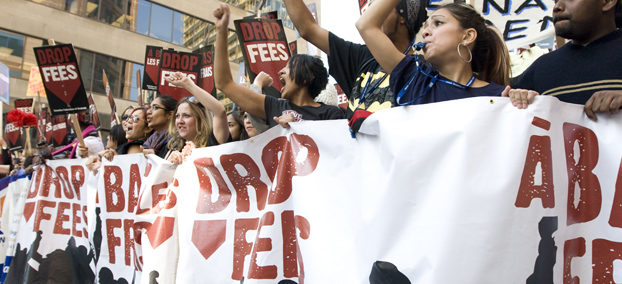 Across Canada, public education activists will join students as they take to the streets on February 1, to call for a high-quality post-secondary education system that is equitable and free of financial barriers. CPE affiliated groups were alerted to the realities of today's job realities by this week's articles in the Toronto Star.
Click here for details on an event near you.  Buses are leaving several post-secondary campuses for the Toronto and Ottawa rallies.
Toronto Mass Rally
WHEN: Wednesday February 1 @ 1 p.m.
WHERE: Meet at Convocation Hall,  University of Toronto – 31 Kings College Circle
WHAT: Rally and March to Queen's Park
readers may want support the three demands of the Canadian Federation of Students campaign:
Increase funding from the Provincial government  and restore a Federal funding transfer for post-secondary education
Reduce tuition fees
Drop student debt
As advocates for quality public education in Toronto, we must add our voice to demand that job training centres, community colleges and universities operate less like corporate businesses. Clearly, education, now more than ever, must be properly funded through fair taxation and seen by governments as a critically important public service for Torontians.
Email your MPP then visit www.educationisaright.ca for more information or to add your endorsement.