Candidates sign Pledge to fixOntarioschools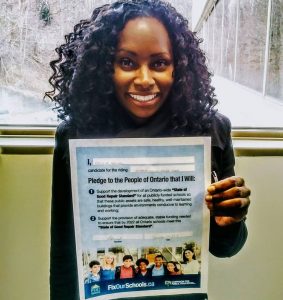 MPP candidate for Scarborough Rouge Park, Felicia Samuel has pledged to fixOntarioschools!    Have the MPP candidates in YOUR riding signed  a Pledge yet?
Download Pledge forms and the MPP Info flyer here.  Then go along to each of their offices and find out.
Consult our "fixourschools campaign guide "     Visit the candidate offices along with a neighbour, another parent or family member.  Have the candidate hold the signed pledge close to you phone camera.
Then send us the signed pledge photo via news@campaignforpubliceducation.ca  We will be presenting a stack of signed pledges to fix our schools in the Ontario legislature this spring before the election "writ is dropped".