Cops out of schools?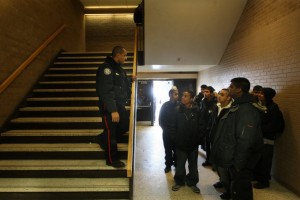 When the Toronto police board met [last] week, a lesser-known police initiative called the School Resource Officer program was a minor item buried deep on a packed agenda — and nowhere near the chopping block.
But by the end of the monthly board meeting, the 36 uniform cops assigned to work in 75 schools across the city had nearly been pulled out of class, the program suddenly on the brink of suspension pending consultation with school leaders and community members.
The abrupt turn of events was prompted by impassioned presentations by a group of educators and researchers, who detailed what they said was the detrimental — and in some cases dangerous — impact of cops walking the halls alongside students.
Racialized students felt harassed and surveilled, the board heard. Undocumented students were threatened by officers inquiring about their citizenship status. The presence of an officer criminalizes situations once handled by teachers or administrators, creating a "school to prison pipeline."
The accounts of the nearly decade-old program directly contradicted the glowing letter that prompted the discussion in the first place — a letter from Toronto Catholic District School Board chair Angela Kennedy calling the program "a cornerstone of our commitment to safe school communities."
Board members moved swiftly.
"I have a lot of strong feelings about this," said Ken Jeffers, a member of the seven-person civilian board, in response to the deputations. "I would suggest that we terminate the program immediately."
"I think we need to do something significant," said board member Marie Moliner. "I would not be inclined to keep SROs in schools; that's how I'm feeling today."
As Chief Mark Saunders cautioned that only one side of the story had been heard, board members opted to put off, until next month, voting on Jeffers' motion to suspend the program pending further consultation.
Now, concerns that have been mounting within some communities for years have been thrust into the spotlight, setting the stage for a heated debate next month over a polarizing question: Do armed police officers belong in Toronto high schools?
Ten years to the day before this week's police board meeting, Grade 9 student Jordan Manners, 15, was killed in the hallway of C.W. Jefferys Collegiate, found by a teacher with a fatal gunshot wound to the chest.
His murder, the first in a Toronto school, rocked Canada's largest board and forced staff to rethink safety within school walls.
Just days after Manners' death, the Toronto District School Board (TDSB) hired lawyer Julian Falconer to lead review of safety inside its schools. The resulting report painted a bleak picture of secondary schools; there were more knives than at "Home Hardware' and there was a "culture of fear" preventing teachers from reporting students who scared them.
The report made 126 recommendations, ranging from locker searches and gun-sniffing dogs to the hiring of more social workers and child and youth counsellors — but did not suggest bringing uniformed officers into schools.
A few months later, the TDSB, alongside the Toronto Catholic District School Board (TCDSB) and then-police Chief Bill Blair announced the school officer program.
Thirty constables would be placed in schools across the city, a program paid for by police and the province. Blair approached both boards about putting officers in schools, according to Toronto police.
Decisions about which schools would receive a cop were influenced by Toronto's "priority" neighbourhoods, communities designated as having youth considered to be at risk. Asked how the decision to get an officer is made today, Ryan Bird, TDSB spokesperson said the principal, superintendent and trustee will discuss the idea with parents "and if in agreement, would make the request of Toronto Police."
The move was embraced by many parents, teachers and school staff as both a necessary security measure and an opportunity for police and youth to build bridges.
But it was also met by opposition, with some parents and school trustees feeling they had little advance warning and felt there were other solutions to school violence. Trustee Sheila Cary-Meagher told the Star the idea to bring armed cops into schools "breaks my heart. It's so against the principle of education."
C.W. Jefferys, where Manners was killed, was initially resistant. But the school's opposition quickly dropped when a teen was stabbed and another student was caught with a loaded handgun. One year into the experiment, Toronto police announced the program would be expanded from 30 to nearly 50 public and Catholic high schools, C.W. Jefferys among them.
Data from the first year of the program showed early signs of success: a 17 per cent drop in suspensions and 16 per cent drop in criminal charges against students. Staff, students and police relayed stories of bonds built and violence averted.
"You want to change students' image of you to someone who's not too proud to help," Const. Gavin Jansz, the resource officer at James Cardinal McGuigan Catholic High School, told the Star in 2009.
The same month Toronto police announced they were expanding to more schools, an organization comprised of students, parents, and educators calling itself NOCOPS (Newly Organized Coalition Opposing Police in Schools) met with TDSB to express concerns about police in schools.
The group felt there were better qualified, caring adults to provide the services and attention youth need. Highlighting a finding in Falconer's report, the group said racial profiling by police was "a key factor in youth alienation" in marginalized communities.
"In light of this, we know that the presence of armed police in schools will ultimately increase the sense of alienation and climate of fear for many students," a June 2009 NOCOPS letter to the board states.
The primary goal of Toronto's SRO program, as it has grown to 75 schools, has been safety.
In a handful of high-profile instances, the school resource officer has been praised for averting serious injury, or worse. In January, a 17-year-old boy was stabbed in the cafeteria of Etobicoke's Thistletown Collegiate Institute, and the school's resource officer was called "instrumental" in containing the incident.
But not all violence can be avoided. In September 2014, Hamid Aminzada, 19, became the second student to die in a TDSB school after he was stabbed inside North Albion Collegiate Institute. The school had two resource officers, but they also worked in other high schools and neither was there at the time.
At this week's board meeting, Saunders said surveys of nearly 5,000 TDSB and TCDSB students conducted since 2011 show 58 per cent felt safer because of officer presence in their school.
"That leaves 42 per cent who are not safe," responded board member Dr. Dhun Noria. "Do we have a report on that?"
The lack of a recent and independent review is, indeed, one of the biggest criticisms of the SRO program. Toronto police have published two reports — one in 2009, another in 2011. Saunders told the board Tuesday he was already in the process of arranging an independent review of the program, potentially by researchers at Ryerson University.
"Our question is, why are cops able to access our students with such limited evaluation?" asked Silvia Argentina Arauz in an interview this week.
As co-chair of a group of teachers, parents and students called Latinx, Afro-Latin-America Abya Yala Education Network (LAEN), Arauz has been organizing events to oppose officers in schools, including a community consultation last year attended by TDSB school trustees.
As a parent, she is concerned what the officer does in the school, whether their interactions with students are recorded in any way, and why officers — who have little specialized youth training — are sent in to work with students.
Toronto police would not make a SRO available for an interview for this story or answer questions pertaining to the program, including its current cost. Spokesperson Mark Pugash said those questions will be addressed at the upcoming board meeting.
"The Toronto Police Service knows, firsthand, the value of the School Resource Officer Program. We will provide evidence, not anecdotes, at the Police Services Board meeting on June 15," Pugash said in an email.
Gita Rao Madan, who studied Toronto's SRO program for her master's thesis at University of Toronto's Ontario Institute for Studies in Education (OISE), said the program's stated goal of safety provision needs to be examined.
"When you talk about safety you have to ask, safe for who?" said Madan, who is also a member of the group Education Not Incarceration, a group of parents, educators and youth. "Certainly, for many people in the city, police are actually the antithesis of safety."
Alison Fisher, a TDSB high school teacher and PhD student, is working on a five-year study of safety and schools rooted in interviews with 63 youth in the Greater Toronto Area and 48 youth workers.
She told board members Tuesday that one interviewee described being "tackled" by her school's SRO, who then kneed her in the back.
"Her knees and hands were bloated from the force used," Fisher told the board. "She was taken to a police station and held for 14 hours. She was 15."
The allocation of officers can also make certain schools and students feel criminalized, Fisher said. She and fellow researcher conducted an analysis of TDSB schools with SROs in 2014-2015, finding seven TDSB schools in the Jane and Finch area have a full-time resource officer in the school. In other parts of the city, one SRO works in up to eight schools, while some schools have none, the research found.
Last month's York University study on race equity in education noted Black students and parents worried school boards were more likely to place officers in schools with large Black student populations "because of the stereotypes about Black students."
Katie German, who has worked in schools in Rexdale and Scarborough, told the board about a young Black student who, in addition to getting stopped by police going to school, then surveilled by an SRO in the halls, now has an officer at every one of his hockey practices.
"There is no school space in which this student is not policed," she said.
But at C.W. Jefferys — where there is a large population of racialized students — principal Monday Gala says the school's SROs are building genuine relationships with students.
He cites an example that occurred just last week: a huge alumni basketball tournament at the school, partly organized by the school's SRO, which included alumni, students, staff and police teams.
"If you come into Jefferys today and see the positivity that is going on organized by this partnership with the police, you can't deny the fact that there is a place for the police in the school," he told the Star this week.
He also knows of "ample examples" of youth going to the SRO for advice — or the officer intervening with an alternative approach when staff were ready to call police or suspend a student, he said.
Likewise, finding an alternative approach was why Toronto Police Const. Cheryl Tomlinson-Thompson recently received the Ontario Association of Chiefs of Police's annual SRO award.
In addition to her many activities within her school, Tomlinson-Thompson was recognized for her effort to tackle gangs and drugs problems at Albert Campbell Collegiate Institute.
She established a Scarborough court youth justice diversion program within the school, brought staff and parents on board, and was central in "facilitating an intense counselling and training program," Tomlinson-Thompson's supervisor said in a letter nominating her for the award, which she won in 2013.
But interventions to help at-risk youth do not necessarily have to be provided by a police officer, says Kathy Bickmore, professor at the University of Toronto's department of curriculum, teaching and learning.
In researching the impact of officers in Canadian schools, including in Toronto, Bickmore has met school officers "who were good people who like kids and who make a real effort to build healthy relationships."
Yet she doesn't recommend cops in schools. Their presence, she says, discourages solutions that can help young people learn, including conflict resolution meetings, counselling or mentorship.
"Treating conflict in a school as a security problem — even when they are doing it gently and lovingly, where it's all about building community relationships — rather than as an education or a community actually has a tendency to make schools less secure."
Toronto police board member Shelley Carroll, too, lamented the fact that school community members once provided security — not police. She cited changes in 1997 that eliminated much-needed eyes on the hallways— including the loss of 800 caretakers and changes to teacher contracts that meant less time patrolling the halls.
Police in schools were an "emergency fix," Carroll said at Tuesday's meeting. Now they've become so established school leaders have forgotten there were other solutions.
"Just like mental health on the streets now, just like so many problems, we eradicate all the things that, in a nice way and in a healthy culture way, create society," she said. "And when a problem is there, we say: 'Police officers, fix it please.'"
Wendy Gillis wgillis@thestar.ca