TDSB cuts teachers, office staff to please province, balance budget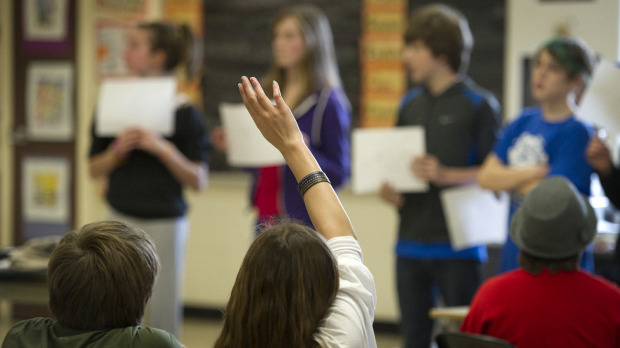 Photo: Kevin Van Paassen, Globe & Mail
The Toronto District School Board voted to eliminate 200 high-school teaching positions, 134 school office staff and 17 elementary vice-principals at a special meeting late Wednesday.
The cuts were meant to help the board cope with a projected $109-million shortfall in its nearly $2.7-billion budget.
The Ontario government's decision to protect full-day kindergarten and small class sizes over other parts of the education budget hit the board's balance sheet hard, and left trustees searching for ways to make up a larger-than-expected deficit.
Trustee Howard Goodman, chair of the board's human-resources committee, said the cuts put the TDSB in line with staffing levels at other Ontario school boards.
"In my mind, this is a manageable change," he said.
The board employs nearly 6,000 secondary teachers so retirements and resignations are expected to prevent the need for layoffs in that particular job category. Students, however, are expected to feel the cuts in the form of reduced course offerings at some schools.
TDSB staff do expect that some office clerical staff will be laid off.
A decision on whether to eliminate 430 education assistants was deferred to a meeting for next week. Staff have recommended eliminating all but about 60 of those positions in order to free up funds to hire early childhood educators to fill full-day kindergarten classrooms.
The board is hoping to hear from the Ministry of Education on whether it will help education assistants complete the training to become early childhood educators, and therefore avoid layoffs.
"[These cuts] will have an impact on classrooms and it will be a negative one," said Trustee Cathy Dandy, who voted against eliminating jobs.
Even if the cuts to education assistants are approved, the board will have only saved $50-million. School-based staffing, at $1.95-billion, accounts for most of the budget, so finding another $59-million in savings from items such as transportation, heating and lighting will be difficult. If trustees fail to balance their budget they open themselves to a takeover by the province, which would likely result in program cuts and school closings.
Globe & Mail KATE HAMMER    EDUCATION REPORTER    Thursday, Apr. 05, 2012 7:41AM
___________________________________________________________________________________________
Toronto school board turns its budget-balancing knife to administration
Toronto trustees, who just approved $28 million in school staffing cuts, will next consider chopping administration, trimming outdoor education, boosting permit fees and delaying computer purchases to address a $109 million budget shortfall.
The Toronto District School Board has already banned all international travel and study tours for staff for one year.
According to a confidential document obtained by the Star, the board's chief financial officer has also suggested cuts to professional development, a 2 per cent cut to school budgets and axing 40 central coordinators/instructional leaders. Budgets for the human rights, parent involvement and employment equity offices would also be affected.
These and other reductions will be discussed by trustees this month and next, before they take a final vote in June.
Education Minister Laurel Broten said the board took steps — through the staff cuts — at its Wednesday night meeting to balance its budget, and "that is our expectation of them."
Broten has spoken to those at the board "on a number of occasions" about the importance of balancing the books. She noted the board's funding has increased 34 per cent since the Liberals took office despite declining enrolment.
However, several trustees at the Wednesday meeting had harsh words for the province, accusing it of underfunding education. In the end, they voted to axe 200 high school teacher positions, 134 school secretarial jobs and 17 vice-principals.
Doug Jolliffe, head of the Ontario Secondary School Teachers' Federation District 12, said 10 teacher-librarian positions are among those lost, which he expects will affect smaller high schools.
While retirements will probably mean no layoffs, he said students will have fewer course choices.
Small alternative programs could bear the brunt of the cutbacks, since they tend to have small teacher-student ratios, he said, adding that the Triangle program for gay students appeared to be hard-hit.
On Wednesday, trustees deferred a decision on cutting 430 education assistants until a deal can be finalized that would see them work as early childhood educators in full-day kindergarten classrooms while earning a specially developed two-year diploma from Humber College.
The province provides little funding for the assistants, but their salaries would be covered if they worked in full-day kindergarten classrooms.
Assuming the assistant jobs are cut, there's still a $60 million deficit that must come out of non-school staff spending.
"That's $60 million out of $600 million, and in that $600 million are a lot of non-negotiables — heating, lighting, transportation; there's payroll accounting, purchasing, the operation of our computer system," said Trustee Howard Goodman. "These are things we can't just take out."
Kristin Rushowy and Tanya Talaga,  Staff Reporters  thestar.com   Thu Apr 05 2012