tdsb cuts: the deets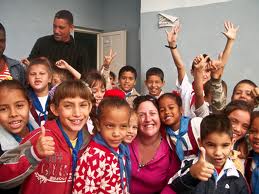 Senior staff at the TDSB have recommended that the school trustees approve the staffing levels of school-based staff for 2012-2013.  Do you agree?  Call your trustee today.  Witness the board meeting Wednesday March 28th where you can hold your trustee's "feet to the fire".
From reliable sources, CPE has obtained the altered staff allocations suggested for the fall. Read on, speak with your children and neighbours… and try to pass your views on to your trustee before the end of the week.
Allocate 5,645.0 FTE positions of Teacher – Secondary
-137.5 FTE Regular Program
-19 ESL/ESL Reception
-32 Learning Opportunities    -10 Library Guidance  -4 Special Education  +4 Profile Teachers (due to increased funding from Student Success)   -2 E-Learning
A total of -200 FTE positions
Allocate 10,614.0 FTE positions of Teacher – Elementary   +375.5 Regular Program (+320 due to FDK implementation)
-4 ESL
-124 Literacy/Numeracy (due to recommended reduction of 76 FTE Reading Recovery Teachers and 48 FTE Literacy/Numeracy Coaches)   -1.5 Library
-20 Special Education (due to recommended reduction in Intensive Support Programs)   -6 Section 23,   -5 Profile Teachers
Allocate 218 headcount positions of Elementary School Vice-Principal –    39
Allocate 175.0 FTE positions of Secondary School Vice-Principal                  -1
Allocate 63.5 FTE positions of Educational Assistant – Regular Program-  430
Allocate 678.0 FTE positions of Early Childhood Educators  +406 (due to FDK implementation)
Allocate 2,490.0 FTE positions of Special Education Classroom Support   -4
Allocate 1,090.0 FTE positions of School Office Clerical                                  -134
Allocate 118.0 FTE positions of School-Based Safety Monitor + a cost equivalent of 89.0 FTE School-Based Safety Monitors -6
2,071 headcount positions of Lunchroom Supervisor   +394 (due to FDK implementation)
Allocate 94.0 FTE positions of Aquatics Instructor  -2 (due to programming changes)
Allocate 46.0 FTE positions of Food Service Assistant   -no change
Allocate 2,185.5 FTE positions in Caretaking  -10 (due to school closures and reduction in square footing)