your input on funding by Friday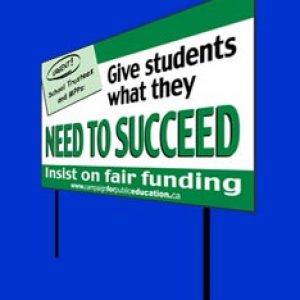 Campaign for Public Education since 2002  We INSIST on needs-based funding for Ontario publicly-funded schools, daycares and adult education.
Dear friends of public education,
We need your help. This is urgent. Each year the Ministry of Education consults on education funding to find out what people would like to see as priorities for school board funding. You can find the survey questions and submission address here.
This year's consultation closes on December 14, 2018. The Ministry has asked for feedback on four themes, all related to finding "efficiencies" and cutting costs. They ask questions that open the door to defunding our schools and redirecting tax dollars to the private school system as well as privatizing school services and offering school board work to the lowest bidder.
CPE believes that, despite the survey format, we need to quickly submit opinions not covered by the themes on which the Ministry survey is framed.
We hope you'll make time to complete the online survey in the next week and tell the government why it is important to prioritize the maintaining of a publicly funded school system that is funded based on student need. Submissions can include stories from schools and communities about the importance of schools for students, communities, adults and new Canadians and how school programs and services can be improved by:
giving students what they need to succeed
eliminating the $15.9 billion school repair backlog and
ensuring better staffing levels.
Other suggested items for your submission are:
The important role played by Educational Assistants, and how better staffing levels would improve student outcomes and the overall classroom environment
The dangers of contracting out school board work to private companies and reducing the continuity, consistency and safety that children need.
How school custodians play an important role in student safety
The importance of school libraries in providing students with the skills they need to succeed, and the key role played in developing literacy and research skills; fostering a love of reading
How consistent adult presence by staff keep schools running smoothly and are the frontline of school security.
The problems associated with deferred maintenance and the underfunding of school renewal and repair
The importance of social workers, speech and language therapists, child and youth workers remaining in our schools."
Again, you should fill it before December 14th.