Disconnected board initiatives change nothing
…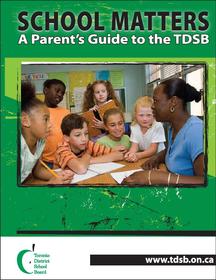 Dudley Paul reports  that when it comes to Toronto's most marginalized students TDSB tends to put forward many disconnected initiatives without changing anything.
"Committee Reports are often not fascinating reading. Yet, the Draft Report of the Achievement Gap Task Force [Toronto District School Board] came out with an unexpected zinger when it spoke about so-called "racialized groups" of students across Toronto. As it said, an  "…achievement gap for these groups has existed since the 1980's.These students have the lowest family income levels and are more likely to live in the most socio-economically disadvantaged areas of the city."
"What a truly pitiable situation! After 30 years it is the same result. Surely this cries out for something beyond system tweaks and some new programs.
"But what are we expecting when we speak of closing this gap? Does it mean better programs, improved academic performance, greater equity? Does closing this gap mean ensuring that communities throughout the city are respected, that the TDSB is serious about making public schools in the city more amenable to the students and families who use them?
"Some members of the ICAC Achievement Gap Work Group pointed out that the achievement gap is better characterized as an "opportunity gap" – that as the Draft Report notes, students for whom there is a gap in achievement do not share the advantages others.
"Taking up that recommendation, Board staff have now presented an "Opportunity Gap Action Plan"  – something that deftly answers the question: "How far does the TDSB want to go to eliminate the gap  – "opportunity"  – "achievement" or whatever.  To sum up the answer provided by the new "Opportunity Gap Action Plan" – not that far.
"The Opportunity Gap Action Plan or OGAP is big on elucidating a year-by-year plan. We're told for instance that Aboriginal Education is such a priority that the Board is developing a voluntary self-identification policy, that there will be aboriginal education pathways at particular secondary schools and that by year 3 of the 4 year plan, the Board will establish a multi-year action plan to "address Aboriginal Education student needs…"
"Of course Board staff think that improving test scores for Black, Middle Eastern, Latino, Portuguese and Roma kids is a priority too  – so much so that it is going to establish a task force to address "…the educational success or students of Portuguese descent", while reviewing the needs of Roma students. By year 3 the Board will have managed to come up with a "student performance incentive strategy, a cultural education centre and a year round extended day outreach program for students from Caribbean backgrounds. The Board will work in partnership with community agencies.
"There's more. To strengthen innovative and progressive programs the board will design a "learning and leading strategy" for grade 7 and 8 students who are falling behind and work out a way to reintegrate incarcerated students and set up Culturally Responsive and Relevant Pedagogy training for families of schools.
"To be fair, there is more in the report than what has been listed above. But this is pretty much the gist of the Board's latest " Call to Action". There is plenty of "explore the feasibility of" or "develop plans for" this or that throughout the document, but it falls sadly short as far as going out on a limb and saying what the scope of the problem is and attempting to grasp what really needs to be done.
"Both this report and the 2010 Achievement Gap Task Force's Draft Report, betray a gap in understanding what we are trying to accomplish in closing the achievement or opportunity gap.
"So the TDSB may put forward many disconnected initiatives without changing anything. There may be many good ideas for engaging different groups of students and improving their opportunities for success, but until we are clear about what stands in their way and the nature of changes we need to make, programs may come forward, staff may attend workshops and teachers might do a better job of collecting and working with data and following many other of the report's recommendations. But that is about all.
"At an Achievement Gap Work Group (AGWG) meeting last June Superintendent Jim Spyropoulos asked a good question: What lens do we need to use to look at the achievement gap?
"In some ways that question has been answered in a companion piece to the OGAP, that outlines how the action plan aligns with the Equity Policy Foundation Statement (1999). Twelve years later there is indeed a plan to ensure that teachers will begin "reviewing curriculum through an equity lens" that it will provide equitable opportunities through mentoring and leadership programs. There is even a great idea drawn from the Model Schools Program about expanding Pediatric Clinics – hopefully in co-ordination with existing services. It goes on to say how institutional barriers will be taken away, how parent academies, forums and discussion will show how communities are valued and how hiring an Ombudsman will flag system concerns across the board.  Financial resources will be brought into play to educate staff, run an Aboriginal Education office, maybe expand model schools and of course, review all of the above.
"There is nothing inherently wrong with any of these ideas, in the same way that there is nothing inherently wrong about making snow angels in a blizzard to make it stop – it's just that you might be missing the essence of the problem.
In that light consider these questions:
1. What does achievement mean according to the 2011 DRAFT Opportunity Gap Report?
It's not mentioned in the OGAP.  However, the Task Force Draft Report's view of achievement focuses on graduation rates, credit accumulation, report cards results and achievement on EQAO tests. It is tempting to use these measures as the gage of achievement. You can count the number of students who have graduated, quantify grades and follow results on provincial testing. This method might work well in measuring progress for students who are already managing adequately in school, but it is about as blunt as a two by four for reading the situations of students who are falling behind.
For these students, measures of achievement need to be flexible, based on progress from where he or she began rather than against same-age students on an abstracted measure like the EQAO. A student who attends school consistently for the first time and learns some basic reading skills is making significant progress. This will not light up the EQAO; she may not be able to read any of the passages. But hers is progress we shouldn't miss. The same applies to ESL students who have done very well as they acclimate to a new country or to the many girls and boys who will have to move into poorer housing due to cutbacks in social programs across the city. Teachers must be allowed to use their skills at understanding the variability of their students. They need to be allowed to refocus their lenses as they assess the achievement of their students.
In roughly the past 15 years, an obsession has developed amongst many of the province's educators about the need for Ontario to be competitive in international tests such as Trends in International Mathematics and Science Study (TIMSS). But, it is a crude comparison at best to measure students of one vastly different social, economic and cultural context with those of another. Surely, to narrow the achievement gap we need to be directing our efforts at educating the children we have rather than pretending they are someone else.
In light of this why do measures of achievement continue to be used that have little or no reference to the multicultural nature of Toronto? The EQAO for example is purportedly written for students across the province. Yet, as the following excerpt from a recent Grade 6 reading passage illustrates, the audience is limited:
Digging For Gold
"What are you doing? Jessica asked her older brother when she saw him kneeling in Grandma and Grandpa's yard.
"I'm digging dandelions out of Grandpa's lawn and I'm earning money at the same time," replied Brandon.
When their grandfather heard that Brandon was saving money to buy an official-type soccer ball to practice with at home, Grandpa made him an offer. If Brandon helped him remove the weeds, Grandpa would pay him a dollar for every 25 dandelions he dug up. But they must have the root still attached.
"Can you show me how to do that?" asked Jessica.
"It's not hard once you know how, " said Brandon. "You shove the weed digging tool into the grass beside the dandelion and then bend it so the root snaps off below the ground. Then the whole dandelion can be pulled up, root and all." He found a big dandelion and demonstrated the weeding method for his sister. 2
This is half of an undeniably tedious reading passage – something in itself that introduces an unwanted variable in assessment. Also, it is very hard to imagine that a child living on the 15th floor of an apartment building in Rexdale brings the same information to this reading as the child who regularly visits her grandparents' back yard in Riverdale, Sault Ste. Marie or Windsor for that matter. As many have tried to point out over the years, this assessment approach by the EQAO is neither culturally fair nor very accurate. The multi-day length of the assessment alone introduces variables that raise questions about its validity. Yet whole families of schools have become mobilized to pass this test rather than engage in programming that best reflects the needs of their students.
It is a sad irony to consider that if the Board really did implement a "Culturally Responsive and Relevant Pedagogy", it would probably have to eliminate the EQAO.
Think how much better it would be for the TDSB, with access to two faculties of education, to develop a package of assessment materials that would reflect the varied experiences of different cultures within the city, that would not take up to week to administer and cause stress for 8 and 11 year-olds not used to writing high-stakes tests. Teachers would administer and interpret these assessments. They would share the results with school colleagues and determine what realistic changes might be made in programming at a particular grade level or across the school. Results would be shared with the school community, not to shame or glorification of publication in the mass media. Such an assessment would be one useful tool rather than a political instrument. This is not a radical idea; the former Toronto School Board made an attempt to do this through its Benchmark program in the 1980s and 90's.
To consider achievement, educators need to draw on a broader body of information than marks and graduation rates alone. Measures need to be multivariate in order to tease out skills and knowledge of a highly varied population. At the very least, assessment tools need to be culturally fair. Finally educators and parents need to be involved in interpretation and discussion of results and plans to which they might lead.
This is all about teaching the students we have, based on what they need to learn, rather than what they need to better stack up against others living in Britain, Singapore, Spain or whatever other irrelevant place of comparison you wish to choose.
2. What do TDSB goals for students look like according to the 2011 DRAFT Opportunity Gap Report?
Actually, there is nothing in the OGAP about what the TDSB wishes for its students.
But according to the TDSB mission statement the board seeks to "…enable all students to  reach high levels of achievement and to acquire the knowledge, skills, and values they need to become responsible members of a democratic society"
In light of this mission statement, it only makes sense that the TDSB would seek to enable students to achieve in many different ways, not merely for example, prepare a particular type of worker for the "knowledge economy".
That schools set out to produce certain kinds of workers is not new in Ontario. As long ago as 1899 then Ontario Education Minister, Richard Harcourt called for more manual training to improve the supply of "…well-trained mechanics, farmers and merchants." 3 As Ontario experienced significant industrial changes throughout the 1880's and 90's schools began to change curricula.
Though much has been said in recent years about the role of education in preparing so-called knowledge workers through greater college or university graduation rates, is this not another way of narrowing our view of achievement and putting it out of reach of many of our students? Other than managing data or other people who manage data, it is not clear what "knowledge economy" entails or what it will look like even ten years from now.
In the meantime, as a 2002 Conference Board of Canada report notes, Canadian firms are turning down contracts because of the lack of skilled trades people to do the required work as demand exceeds supply. According to the report, young people are not aware of the opportunities of the trades and so do not seek them out.
This is not to say that that schools should start to churn out trades people. But as years of financial turmoil illustrate, the nature of future employment is not at all clear. Certainly school boards are not in a good position to be creating expectations of achievement based on economic forecasts very far into the future. It would be better for them to concentrate on providing options relevant to the needs and interests of students, their families and communities. To close the achievement gap, provide a relevant curriculum that has meaning for students.
David Clandfield, a member of the Achievement Gap Work Group, describes the notion of schools as knowledge producers. If schools work as hubs of their communities, students can provide needed knowledge and skills as part of the process of their education. Imagine, children at a Scarborough elementary school for example submitting an action research project about their varied cultures or students at Jarvis CI collecting and presenting information about housing issues in Regent Park.
Once again there is nothing radical about this idea, but it does deflect focus from the demands of the Ontario Curriculum, something that turned from guide to prescription in the late 1990's. A more locally focused curriculum places more control in the hands of schools, their communities and teachers, who could use the greater flexibility to develop units that will engage students and better enable them to achieve. Similarly, the time spent on different skills and topics needs to be more flexible, again something that may require a more open interpretation of the Ontario Curriculum.
Achievement, like students and their communities is highly variable.
3. What do TDSB educators look like according to the 2011 DRAFT Opportunity Gap Report?
This is one of the most glaring problems with the OGAP. It seems to operate in a world without teachers. There are initiatives like Achievement Zone schools, Leadership Academies, Professional Learning Days but precious little about the people who work in the schools and who in the end will determine the success or failure of anything the Board attempts.
The Draft Achievement Gap Task Force points out that culturally responsive teaching, something the OGAP mentions, entails:
–       Respect and compassion for the students, their issues and challenges
–       Communicating high expectations
–        Teaching of success behaviours while 
managing the classroom with firm, consistent and loving control
–        Respect for differences and rejection stereotypes
–       Addressing issues of discrimination and social justice within the classroom 
program
–       Using the backgrounds and experiences of the students to learn, to develop critical thinking skills and share 
positive values
–       Incorporating all the dimensions of the child (whole child) into the learning and 
relationship building process
–       Establishing a positive connection with the parent, guardian or other adult 
caregiver of significance to the student
These are reasonable general principles but as a teacher, parent or principal approaches a school, what should she look for?
In a school that truly embraced culturally responsive pedagogy, surely it would relate closely to its community. As mentioned above, curriculum could be shaped to meet local needs and concerns. It would be clear that the community life is reflected in art, activities and overall environment of the school.
An observer entering such a school would see educators tackling issues of race, class, age, gender and sexual orientation – how these permeate school life from the way students, educators and parents interact to the institutional expectations of the TDSB.  Staff would be aware of inherent prejudices, misunderstandings and lack of knowledge that inform expectations and discipline of students. They would be open to being challenged about faulty assumptions.
Educators at this school would seek to learn more about their students beyond the demographic data the Draft AG report suggests. They would be aware of the social and economic world their students inhabited and be able to incorporate this into teaching. They would automatically involve students in relevant questions about anything from classroom management to topics in a curriculum unit. This would not be such a problem in a school that sought to produce rather than only consume knowledge, since these issues would be relevant to students and helpful in closing the achievement gap. This sort of enquiry would be part of the school culture.
Differentiation of understanding would be the norm in this school. It is not enough to consider underachieving groups – Aboriginal, Black, Hispanic, Portuguese and Middle Eastern background in isolation. Differentiation within these groups – gender, sexual orientation and disability  – is critical. The achievement gap between boys and girls in different cultures is one example of the need to dig deeper into the assumption about academic/demographic data.
So much of this depends upon the school. School administrators need to be freed to mobilize their schools and share leadership with their staff. They need to be available and visible in their schools, working with staff, students and parents rather than wasting valuable time dealing with increasing Ministry and Board demands for reporting, fundraising, grant proposals and so on.
Educators, parents and community members need skilled help to work with one another. Prior to amalgamation of Toronto's schools, some local boards had Community Liaison Officers to organize on behalf of parents while helping to build understanding within schools and communities. It makes sense to bring these people back.
Some former boards also had participation built into common activities. For example parents often sat on hiring committees for principals, influenced the promotion of superintendents and had a say in allocation of school budgets. Think how far this would go to signal to parents their importance in educating their children.
All of this boils down to schools and families of schools being unfettered so they can respond to local conditions and the needs these entail. In Toronto, schools have always been the hubs of their communities. By acknowledging this, the TDSB would go a long way in recognizing that it operates not on but within the myriad of communities it serves.
The OGAP goes in the opposite direction. There is a fundamental assumption within it that good policies come from the top – that parents for example need Parent Academies to provide better opportunities for their children, rather than a responsive local school with the resources to be a good community centre.
4. What does freedom from prejudice look like according to the 2011 DRAFT Opportunity Gap Report?
There is mention of using the report "Decolonizing Our Schools: Aboriginal Education in the Toronto District School Board", "initiatives to address homophobic bullying and training teachers to be more culturally responsive.
The Draft AG Task Force acknowledged the effects of societal and institutional racism on the lives and school success of different groups of students. It calls for more specific professional development in antiracist education so that teachers can understand how it damages school climate, student well-being and ultimately achievement.
But it is pretty thin in the details. What would improvement look like?
The observer entering a school in which anti-racist education was taken seriously would see a staff skilled at identifying stereotypes, but more than that, able to grasp the politics of prejudice in general and the subtle ways it affects school life. This would occur because such discussion would be common in staff meetings, professional development and in dealing with situations in the day-to-day life of the school. It would not be a PD add-on as the OGAP recommends, but part of the milieu of the school.
Since the school would be a knowledge-producing place, anti-racist education would an integral part of teaching. For example, the idea of a formal "African-Canadian History Month" would be antiquated; the curriculum would be imbued with this history.
The Board could lead the way dealing with the impact of systemic racism and class bias on students; its intention to be culturally responsive would inform discussions about closing schools in high needs areas. It would make a sustainable priority of equity-inducing initiatives like the Model School Program, Full Service Schools and the like. As far as student discipline is concerned rather than simply pressuring administrators to reduce suspension rates the Board would introduce alternatives to suspension that insure students keep learning even when their behavior warrants a firm response.
The Board would signal to educators and the community alike that it is serious about improving opportunities by eliminating racism and other prejudices. It would include relevant criteria and questions for hiring and promotion. It would also reinstate the Equity Department, restoring its staff.
4. What does the political – economic context of the opportunity gap look like according to the 2011 DRAFT Opportunity Gap Report?
It's mentioned as part of the context of the report – after all the OGAP is about kids who come from low income families – but as part of any plan, it's one of many elephants wandering around the room hoping to be noticed.
According to a recent commission lead by David Hulchanski the proportion of middle- income neighborhoods has reduced from 66% in 1970 to only 29% in 2005. Over the same period, high-income neighborhoods (incomes 20% or more above the Toronto Census Metropolitan Area average) grew from 15% to 19%. Low-income neighborhoods (incomes 20% or more below the CMA average) during this time, grew from 19% of the city's neighborhoods to 53% (extremely low-income neighborhoods increased from 1% to 9%).
Despite this, the Board will face increased effects of economic belt tightening at all levels of government in the coming years. The pressure to close and sell schools is already enormous as the student population shrinks along with individual student grants. The temptation is understandable to sell real estate in order to fund, as Director Chris Spence terms them, projects like Full Service schools.
Yet, to provide needed opportunity for students likely to fall behind, the Board needs to resist selling their community hubs.
Instead, the Board needs to demand more from the provincial government. One relevant example:  the Board can join with others across the province in demanding a workable funding formula, something promised but not delivered by the McGuinty government. It can stand behind the projected costs needed to provide an equitable education for its students without having to resort to steps like advertising in order to provide them. In 2002, trustees, led by a former Liberal Education Minister, Kathleen Wynne, refused to submit a budget that would entail significant cuts and school closures.
The Board also should keep working with the City of Toronto and community agencies to improve services for students who need them. The OGAP calls for an East Region Secondary Native Learning Centre in partnership with the Native Learning Centre or building outreach programs with people from the Carribbean or Roma communities are steps in the right direction. But programs like this need to be allowed to work over time; it is important, that their funding is adequate and sustainable.
As the local media has come to realize lately, some schools in higher income areas are able to collect funds amounting in some cases to hundreds of thousands of dollars, through fees and fundraising. These funds are used to pay for so-called "extras" like sports equipment, musical instruments, field trips, arts activities and so on. This amounts to two-tiered education within one school board and certainly does nothing to narrow the achievement gap. No matter what lens you use to consider this, funding inequity like this makes a mockery of other well-considered measures. This money should be pooled for the use of all students.
The two entities- school board and city – can't be separated as we try to understand why some children aren't doing as well as others. Any solutions must come from changes in both these areas. School is not a vacuum and can not deal alone with families facing increasing stress as governments at all levels cut back on social services.
Toronto Star writer Royson James makes this clear in a recent column "The Poor Will Pay for Ford's Folly."1 James notes that those who can defend themselves – the police, people with political heft in the artistic community, middle class groups fighting for libraries and so- are likely to be spared Toronto Mayor Rob Ford's axe as service cuts accompany budgets in the coming years. It is the vulnerable people of the city who stand to bear the brunt of the cuts. They don't represent significant blocks of votes nor do rthey fund campaigns. It is these people who will go without emergency dental or medical care, who will miss out on grants that keep community programs running, who will bear greater costs for a TTC with poorer service.
To talk about the so-called achievement or opportunity gap without mention of the city within which is resides, is a waste of time.
5. What does helping individual students look like according to the 2011 DRAFT Opportunity Gap Report? 
The most important item is saved for last. Setting aside everything else, educators in classrooms still need to work with the handful of children who present serious challenges to creativity, time and patience.
A recent costing of some of the proposals mentioned in the OGAP – $500 000 for mentoring people within the Roma community, extended day programs, $12- $15 000 for higher needs schools' professional development and so on – came to $4.5 million.
The 2010-2011 TDSB budget was $2.5 billion. Given the nature and duration of the problem, is this a serious attempt to narrow the achievement gap or just appease critics of the school board? Are these and any other programs the Board might introduce sustainable or subject to changing political winds?
As a general principle the TDSB should turn its attention to individual schools and families of schools.  More than Board-wide programs, initiatives at this these levels are closer to communities and can be more flexible. For example there could be a fund available from which families of schools might draw to enhance both in and after school tutoring programs.
Principals and superintendents would co-ordinate these with after school programs, local community leaders, service agencies, colleges and so on to provide further supports. They could provide free permits for athletic and counseling oriented programs geared to providing much-need structure. They could also hire community workers to connect with parents of students falling behind, people who would also be able to provide good information as to how well a local program might be progressing. The board's Model Schools Program is developed along these lines and should be supported and sustained.
No More Platitudes  The questions raised directly and implied by the OGAP and AG Task Force Report are fundamental. They are about what the both the TDSB and the city have become since amalgamation in 1998, as we see profound changes in the way that education has come to be delivered. While some educators speak of preparing students for a so-called "knowledge economy" students attend run-down schools often in neighborhoods that are deteriorating as present-day politicians debate what community services to cut. They certainly do not have equal opportunities for learning or much else for that matter.
However you characterize it – the achievement or opportunity gap speaks to our progress as both a school board and a city. Children need not fall significantly behind other children. That they do so is the result of political and economic decisions. And let's face it, the decisions that have been made since the 1980's when the achievement gap was not new, have not changed the conditions that created it.
We will not close the opportunity gap with platitudes about all students achieving high levels of success based on test scores. We won't close it by applying top – down solutions to school communities that find them irrelevant.
Students want an engaging and exciting curriculum taught by inspired teachers who are allowed to do their work. Let's find ways to support that.
James, Royson, "The Poor Will Pay for Ford's Folly", Toronto Star, September 16, 2011.
EQAO, "Assessment of Reading, Writing and Mathematics, Junior Division" Language 1 Booklet, Spring 2009.
Stamp, R.M., "The Schools of Ontario, 1876-1976, University of Toronto Press, Toronto 1982, p.64
* Dudley Paul, Committee Member ICAC Achievement Gap Work Group  November 2011
Published on line by EDUCATION ACTION Toronto, December 2011