Education "too important to arbitrarily overhaul just to save a buck."
.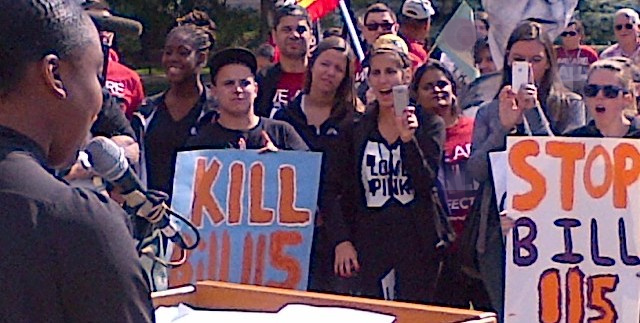 Kayla Smith, a Grade 12 student at Bramalea Secondary School  [seen here addressing Saturday's rally], isn't happy about losing her extra-curricular activities but she feels protesting the provincial government's new legislation, Bill 115: Putting Students First Act, is more important.
Smith was at the forefront of a demonstration by Bramalea students on the lawn of Queen's Park on Saturday. They went to support their teachers' decision to protest Bill 115 by withdrawing all after-school programs.
"We have nothing. No sports, no arts, no clubs. It's frustrating," said Smith, who normally plays football, volleyball and sings in the choir. "But we're against Bill 115. We feel it's undemocratic and unconstitutional.
"We're not angry at the teachers. It's the government that's at fault."
It was the second time in 10 days Bramalea students have rallied in support of Ontario's teachers. About 300 participated in a walkout at the school on Sept. 17, one of dozens that have occurred across the province.    from thestar.com 29.09.12  Dana Flavel
  JOHN BONNAR   SEPTEMBER 30, 2012  rabble.ca writes:    "By the time I arrived at Queen's Park, the metal barricades were set up around the front of the Legislative Assembly of Ontario building.
In less than half an hour, students from Bramalea Secondary School would stage a protest against Bill 115, the Putting Students First Act, that freezes teachers' wages for two years and prevents them from striking…  Students dressed in all-black attire for Saturday's rally to show their contempt for Bill 115.
"We are here today because there is something missing from our lives, something that shouldn't be missing," said Shomari Malcolm, a former student at Bramalea Secondary and currently an undergraduate student at the University of Toronto downtown campus.
Malcolm was involved in numerous extracurricular activities throughout high school. "We have to tell the government that education is too important to arbitrarily overhaul it just to save a buck."
Even though Malcolm is disappointed with that extracurriculars were cut off, he acknowledged that it was the only way for teachers to show their disapproval with Bill 115 without losing their jobs.
And let's not forget that teachers donate hundreds of hours every school year voluntarily coaching sports teams, running arts programs and supervising clubs.
It's not a job requirement.
Now the Premier is trying to place the blame for the loss of extracurriculars solely on the shoulders of teachers.
"What did you think was going to happen?" asked Malcolm.
"How can you pass legislation removing teachers' right to strike and collectively bargain and expect them to continue volunteering hundreds of hours?"
"Don't insult the chef if you want a good meal," yelled one protester.
Malcolm said students know the government isn't putting students first.
"If you're going to name a bill the Put Students First Act, you should probably consult some students first," said Malcolm.
NDP Education critic Peter Tabuns said, "A lawsuit will most likely find Bill 115 unconstitutional and stick Ontario with damages in the hundreds of millions of dollars."
Tabuns said, "We're going to have to get back to democratic norms where people can organize and negotiate and where families, students and workers can find solutions to their problems and make things happen in Ontario."
"Kill the bill," chanted the crowd.
"We were never swayed or encouraged by teachers," said Kayla Smith, a grade 12 student at Bramalea Secondary.
"We are not pawns in a game. Each protest has been a student initiative. But we do support our teachers' decision and fight with them, not against them."
Kayla Smith shared We ARE the Front Lines in Education's status update.   The Press Release…Official Statement    Bill 115. The Putting Students First Act, 2012 . (What an ironic name for this legislation, don't you agree?)
Today, the students of Ontario show that despite the government's words and the media's spin, we will vehemently defend the rights of our teachers in this fight.
We understand that it is very easy for everyone involved to blame our teachers for the cancellation of our extracurricular activities; however we see it in a different way. Our teachers for years have provided countless hours of free labour to carry out the thousands of different programs, clubs and teams that allow us students to leave the school system as more well-rounded active citizens. They do this because they care about us and care about our futures. However, when our government refused to treat our teachers with respect, when our government refused to give them the basic right to collectively bargain their contract, when our government unceremoniously ripped away their fundamental right as workers to strike, they had to take a stand. Our teachers had to make the emotional decision to stop providing the services they had done for years because they needed to show our government that they could not be treated like trash and be expected to carry out business as usual. They had to keep the media's spotlight shined on this issue until an acceptable resolution could be found. We see crystal clear examples of governments legislating against the right to strike of the workers of this nation. Time and time again, we see the media and eventually the public become disinterested when the workers stop fighting for their rights. We can't let allow that happen here. The voices of the students must be heard!
The past tells the story of how workers fought battles decades ago to ensure that the workers of today would have better lives, but our corporatist government is using our current fiscal crisis to take the victories of past battles away. History shows that this kind of action can lead to all workers in the public sector being affected. At large, all of society and at worst, the led to an autocratic system! Teachers do not enjoy taking away our extracurricular activities but they are doing what they have to do to ensure the constitutional rights of present and future employees in the province of Ontario. Not to mention that it is on record that teachers already agreed to a two-year wage freeze in light of the financial predicament we are currently facing. We also want the public to know that we were never swayed nor encouraged by teachers; we are not pawns in a game. Each protest that you have witnessed has been entirely a student initiative.
There are numerous advantages to extracurricular activities. Many students depend on these before and after school programs for educational benefits like scholarships; also most importantly to remain occupied and out of trouble. Extracurricular activities provide the opportunities for students to create lifelong relationships outside of the classroom. Many students rely on extracurricular activities as motivation to even go to school, or to maintain a certain average. Our teachers have been donating their time without pay, because they enjoy doing so and we students have never stopped appreciating them for that. Students need to return to a normal school year, but we do support our teacher decisions and fight with them, not against them. The government has tried to blame the teachers but rather than directing our anger and frustration towards them, we direct our anger and frustration towards our provincial government! We see the provincial government as the root cause to the loss of our extracurricular activities!
Bill 115 gives the government unprecedented powers over school board negotiations with no accountability through legislative debate. Bill 115 is unconstitutional and puts democracy as we know it, in question. The power to make the law does not put government above law! There ought to be negotiations! There ought to be respect! We, the students of Ontario, believe the best solution, is for the government to repeal Bill 115 immediately and then for both the unions and the government to sit down in good faith to bargain out a contract.
Mr. McGuinty, you have caused irreparable damage to how your government is seen by the teachers and students of Ontario, but you can do something right now to begin mending that image.
Mr. McGuinty, we the students of Ontario want our extracurricular activities back and we know that repealing Bill 115 is the only way to receive them. Please put the students of Ontario above any political agenda.
Signed,
Student Movement 2012