Trustee strikes out at staff cuts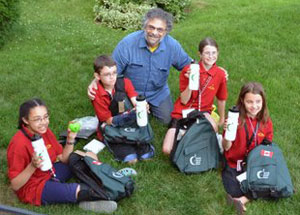 .[Trustee Kaplan with Ward 5 Summit Heights school kids]
Dear Parents and Educators in York Centre,
On Tuesday, March 20, Trustees of the Toronto District School Board met together with senior TDSB staff to receive recommendations for school staff allocations for the 2012-13 school year. The backdrop to this meeting is the TDSB's anticipated $85 million shortfall for the 2012-13 year, which will be further complicated by the recommendations of the Provincial Government's Drummond Report.
The recommendations for staff allocation are alarming and include serious cutbacks in teaching and support staff. If adopted by the Board, this will have a serious impact on students, parents and communities throughout Toronto. I have included below a summary of the recommendations going before the Board at its special meeting on Wednesday, March 28:
 Approximately 85% of Education Assistant (EA) positions will be eliminated – EA's will only
be retained in French Immersion and Alternative Programs;
 There will be an overall reduction in the number of teachers, achieved through increases in
average class size;
There will be reductions in full-time Special Education Educational Assistant positions, although the overall Special Education Support Staff figures will be nearly unchanged;
School Office Clerical Staff will be reduced by about 11%;
Reading Recovery Teachers will be reduced by about 70%, and Intensive Support Programs
will be reduced;
The number of single administrator schools will increase, as Vice-Principal positions are reduced;
School-Based Safety Monitors in secondary schools will be slightly reduced;
Caretaking positions will be reduced, primarily due to school closures;
Full Day Kindergarten (FDK) will be expanded to a total of 190 schools, which necessitates the hiring of an additional 400 Early Childhood Educators.
I have many concerns about these recommendations. The staffing cuts that are envisioned – nearly 1000 jobs are proposed to be eliminated – will devastate many school programs that children and parents rely upon. All of the recommended cuts, taken together, could result in the closure of small schools, which would have a terrible and long-lasting impact on students, families and communities.
While the Board needs to complete the staff allocation by the end of March, the recommendations that have been presented to Trustees are sweeping and severe, and they deserve much more extensive and participatory deliberation. The proposed cutbacks anticipate budgetary decisions that have not yet been determined, and into which public input has not been completed. The Ontario Provincial Budget will be introduced on Tuesday, March 27, at Queen's Park, and the Province's school board funding grants (Grants for Student Needs, or GSN) will not be determined until after that. The TDSB budget process is still ongoing and will not be completed until June.
As in years past, this budget crisis is revenue-based. The Provincial Government's funding formula, which was introduced by the Mike Harris Government, is fundamentally flawed. It has resulted in massive inequity in education funding across Ontario, and it has severely underfunded public education in Toronto. Despite repeated promises to fix the formula, the McGuinty Government has not delivered what is required – a needs-based formula that adequately funds quality public education for all.
Full Day Kindergarten is an important addition to Ontario's public education system, but in the area of budgeting it is being used to mask deep reductions in much-needed personnel. Hiring 400 new Early Childhood Educators for FDK is great, but doing so in a way that hides – or even facilitates – the firing of 430 Education Assistants is unacceptable. FDK needs to be adequately funded as a distinct provincial education program, in such a way that does not divert resources from other public education programs.
As distressing as this situation is, the struggle is not over. The next step in this process is the special meeting of the Board on Wednesday, March 28, at 7:00 pm. I encourage you to contact me with your concerns, ideas, and suggestions. I will be available to discuss these recommendations and the TDSB budget in general at the York Centre Ward Council meeting on Wednesday, March 21 at Pierre Laporte Middle School (1270 Wilson Avenue, west of Keele) at 6:30 pm.
I am committed to opposing these recommended cuts. I look forward to working with you to confront the challenges ahead and strengthening quality public education in Toronto.
Yours truly,
Howard Kaplan     Public School Trustee for York Centre, Ward 5
416-395-8406   Fax: 416-397-3114   Email: howard.kaplan@tdsb.on.ca