Democracy postponed: Rally Wed 530pm Queens Park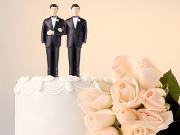 Wedding postponed…but so is our democracy!    In place of a wedding, guests are invited to attend a rally this Wednesday, October 17th 2012 at 5:30pm at Queen's Park against the shutting down of the legislature and the profoundly undemocratic manner in which austerity is being imposed on Ontarians.
The corporate elite of Canada regrets to announce that the upcoming marriage of Dalton McGuinty and Tim Hudak, which was to take place this Wednesday at 5:30pm, has been postponed until further notice. They are, however, pleased to announce the postponement of democracy with the shutting down of the provincial legislature.
"Austerity is much easier to impose without all the red tape of the democratic process to slow it down," noted a senior bank economist with approval.
Rumours abound that McGuinty has gotten cold feet, but some insiders claim that the couple are planning to elope, preferring to seal their commitment to one another, and Bill 115, out of the public eye and in the backrooms of power, where the two have always preferred to canoodle.
Join CPE, parents, students, school workers, teachers and community at 5:30!
     Please share & invite.    
facebook.com/
 No wedding, no democracy – Dalton's Big Fat Proroguing