tired old funding formula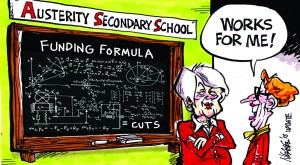 The misnomer of Grants for Student Needs  The general public may have given a collective sigh of relief on March 26 when the Minister of Education Liz Sandals announced that funding for public education in 2015/2016 would be the same as this past year—$22.5 billion. The Wynne government has continued to remind Ontarians that they face difficult fiscal circumstances. So, a flat lined education budget versus a cut doesn't look so bad to the general public.
But what does that funding for next year look like? What does it mean for public education?
Annual government funding, known as Grants for Student Needs (GSNs), for Ontario's public education system is complex at best. The now nearly two decades old funding formula, instituted by former premier Mike Harris, is based on a per student amount, which is used to cover all aspects of a student's learning, including wages for teachers and support staff, classroom materials, technology and other essential needs. Funding for building use and maintenance is based on a ratio of students per square feet.
Many school boards will face reduced funding. Despite the Liberals' claims that funding for education has continued to increase since it took government in 2003, most boards have been forced to make cuts to front-line personnel, especially support staff personnel who help special needs students. This "stable" funding for next year does not guarantee more front line support.
We have already seen in local media outlets that school boards are announcing huge cuts to teaching staff for the next school year, and cuts to support staff are sure to follow. If funding was truly "stable" for next year, why are many boards projecting higher levels of layoffs than ever before?
Class size limits in collective agreements are now seen as a target and not a maximum by school boards. Staffing guarantees are seen as minimums and not a place to start. Smaller class sizes improve student achievement. Having more support for individual students who need it makes our education system better.
So, why do the fiscal constraints and an environment of doing more with less continue in Ontario's public education system to this day?
It's the funding formula. That same outdated, poorly thought out formula that the Liberals promised to change or scrap in favour of one that truly addresses student needs. Instead, the government has found the formula to be a very convenient way to manage public education through a lens of fiscal restraint rather through one of student need. Public education continues to be viewed by government as a cost to society rather than an investment. Until the Ontario government changes its perspective on fiscal restraint, student needs will take a back seat to an austerity agenda.